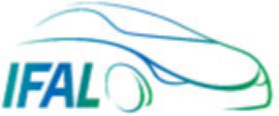 Report on the first day of IFAL 2018
The 6th International Forum on Automotive Lighting (IFAL), jointly hosted by Institute for Electric Light Sources of Fudan University, CIES and Shanghai Motor Vehicle Inspection Certification and Tech Innovation Center, successfully opened at Shanghai International Convention Center on June 21st, 2018.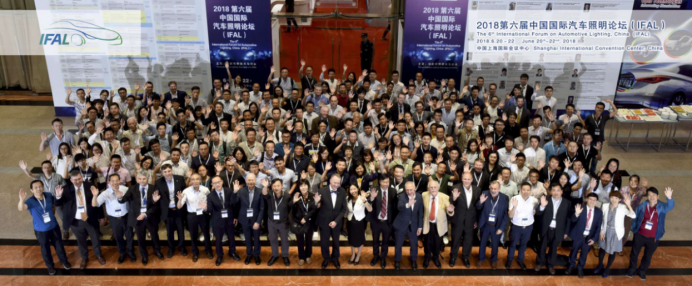 Group photo of 2018 IFAL participants
This year's forum invited over 500 experts from all-over the world. They came from vehicle lighting academic and standardization organizations, lamp manufacturers, testing and research institutes, etc.

At the beginning of the forum, Prof. Yandan Lin released the White Paper on Vehicle Lighting Industrial Research. It focused on the present status and development trends of vehicle lighting, starting with the review of vehicle lighting industry, then analyzing the domestic technique status of automobile lighting sources and lamps, and finally forecasting the development trends of relative technology. Prof. Lin gave an excellent start for the 6th IFAL setting its tone and expectations.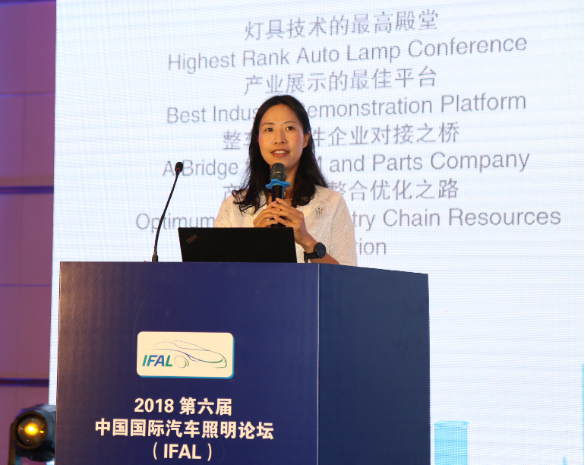 Early in the opening ceremony, IFAL organizing committee played a video, which looked back on the first five years of IFAL development and conveyed the unchangeable mission and vision of IFAL with many thanks to the support from all participants. Next, Prof. Yandan Lin invited other nine guests up to the stage and announced the start of the 6th IFAL together. They were Mr. Marcin A. Gorzkowski - former chairman of GRE, chairman of the SAE International Cooperation Committee, member of SAE to the Working Party on Lighting and Light Signalling in the United Nations Economic Commission for Europe, chairman of International Executive Committee of IFAL, Dr. Ran Liu - associate dean of School of Information Science and Engineering of Fudan University, Professor of the Ministry of education, "the scholar of the Yangtze River", Mr. Bart P. Terburg - chairman of SAE Lighting Systems Group, Mrs. Fei Gao - vice chairman of CIES, director of China Illumination Engineering Journal, Dr. Wolfgang Huhn from AUDI AG, Dr. Rainer Neumann from Varroc Lighting Systems, chairman of GTB WG-RCNC, chairman of GTB WG-SVP, Co-Chairman of GTB WG-Strategy, Mr. Zhijun Zhen - Senior manager of automotive electronics of SAIC, and Mr. Ziwei Shen, deputy general manager of Shanghai Motor Vehicle Inspection Certification and Tech Innovation Center Company, and Mr. Ralf Schäfer - senior consultant of DVN.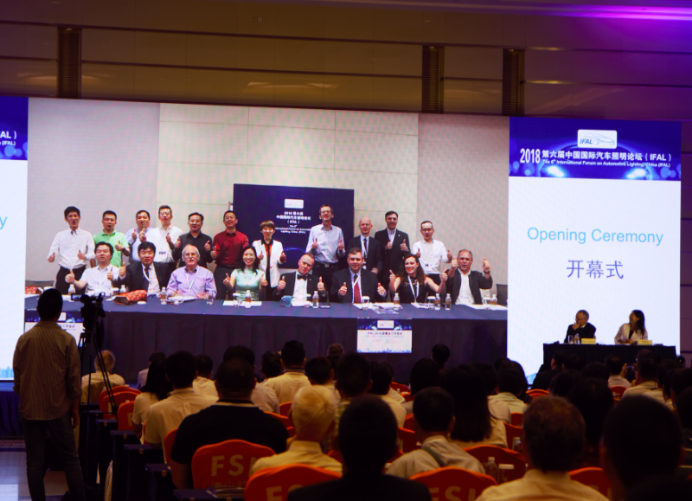 opening video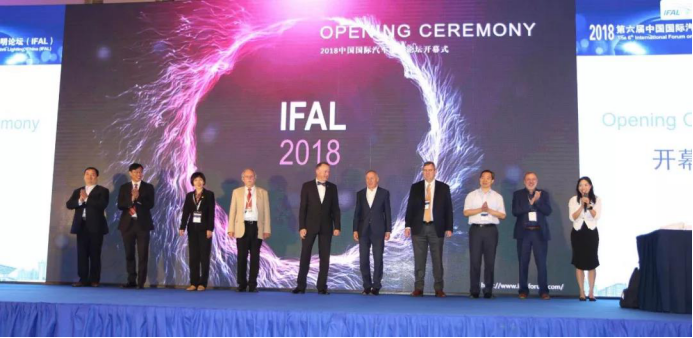 Opening ceremony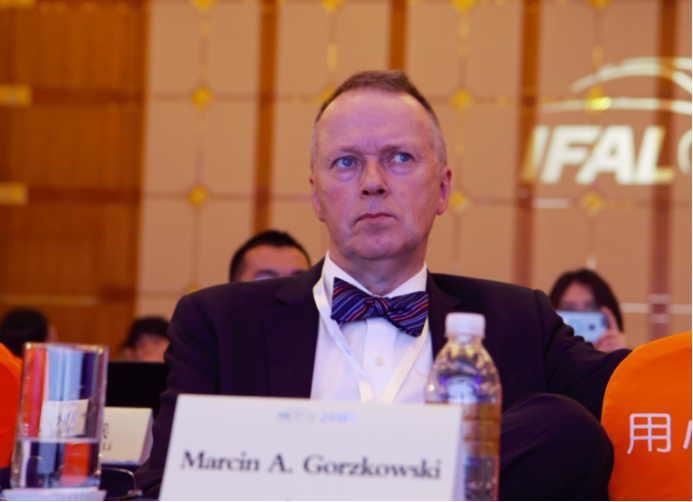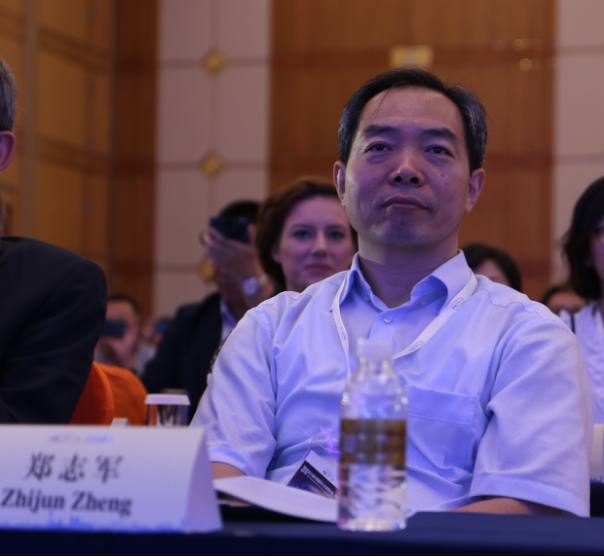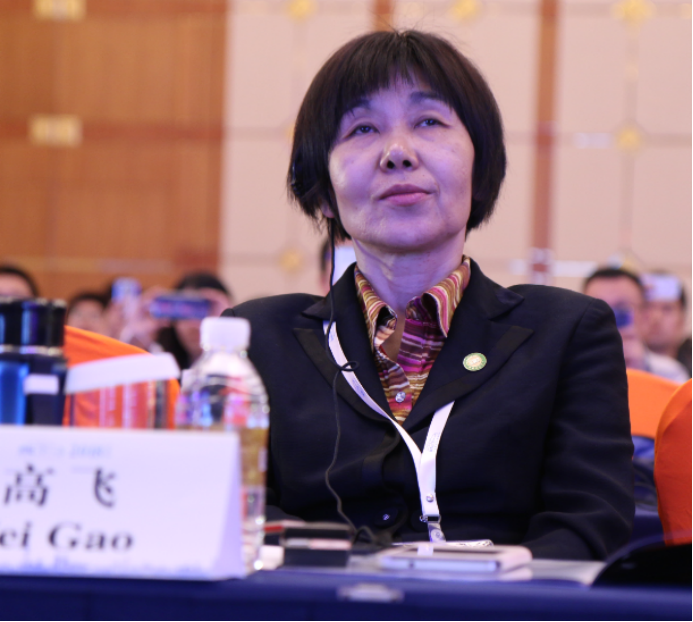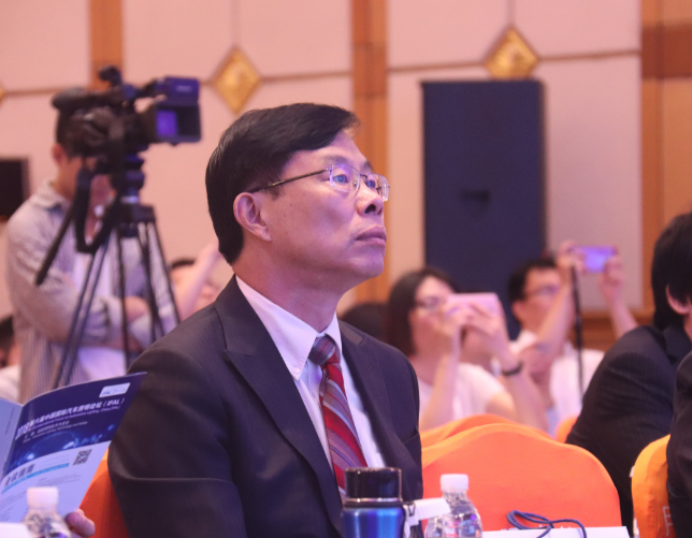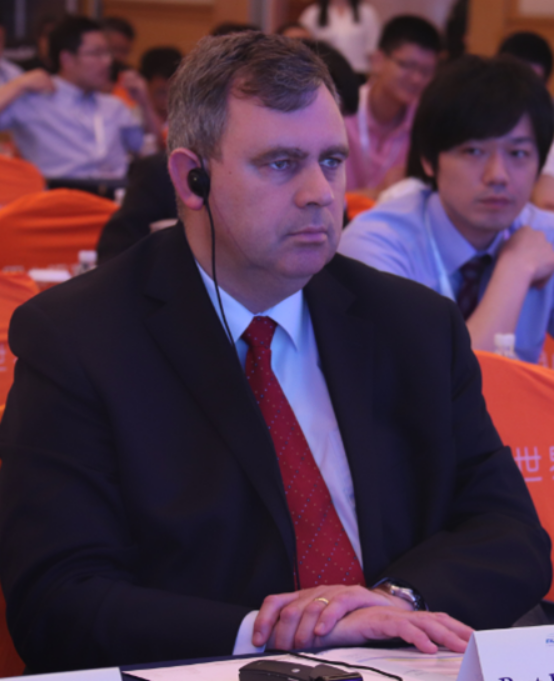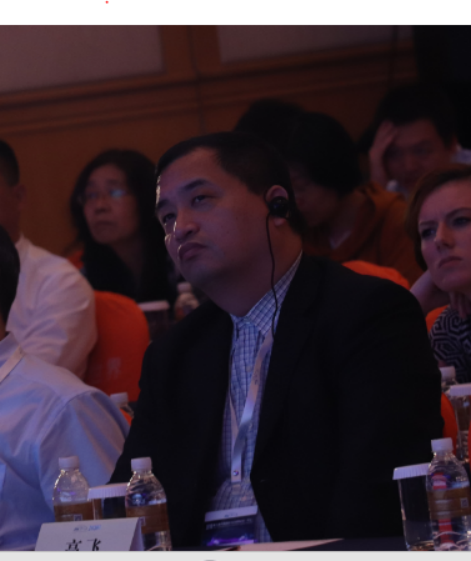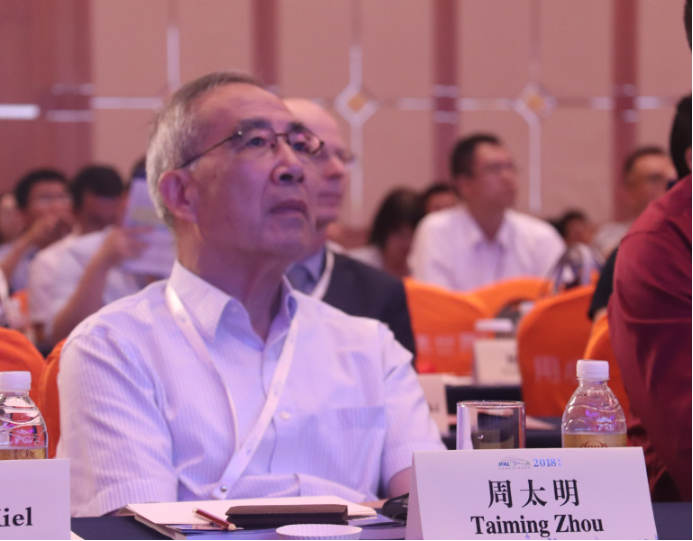 Pictures of forum scene

There were 18 presentations for today's IFAL (including opening presentation), and they were divided into three sessions. Session 1, Vehicle Lighting Development for Automated Vehicles, had 6 presentations in total, which discussed the challenges and opportunities for vehicle lighting of automated vehicles and looked ahead for the future development of vehicle lamp industry. Session 2, New Technology for Automotive Lighting and Signals, had 6 presentations to discuss the innovation of automotive lighting and signalling, specially for road project systems and dynamic interior light. Session 3, Requirements for Road Lighting and Signalling for the Automated Vehicles, included 5 presentations. It gave deep discussions about smart lighting solutions for the new age, particularly for the interaction of lighting signal with road users, and provided expectations for the directions of future vehicle lighting.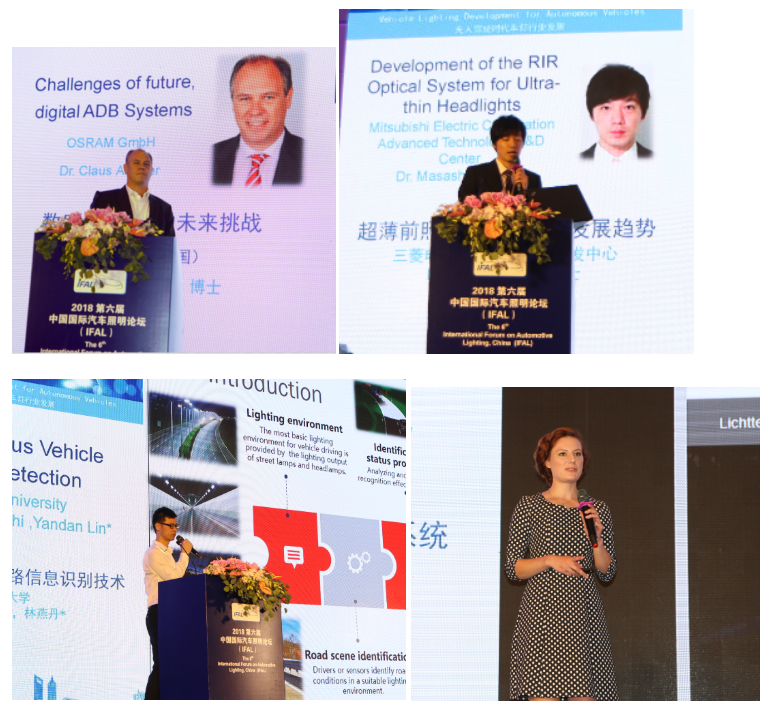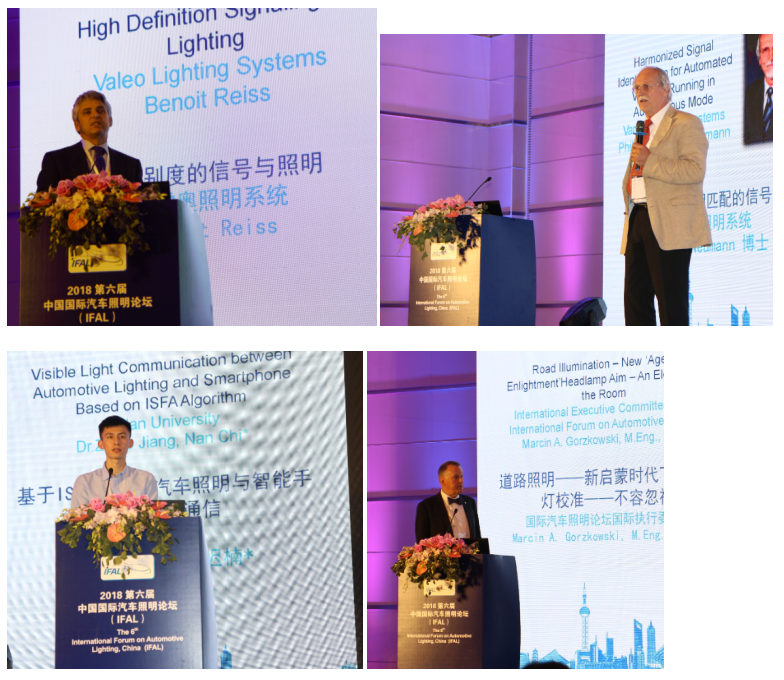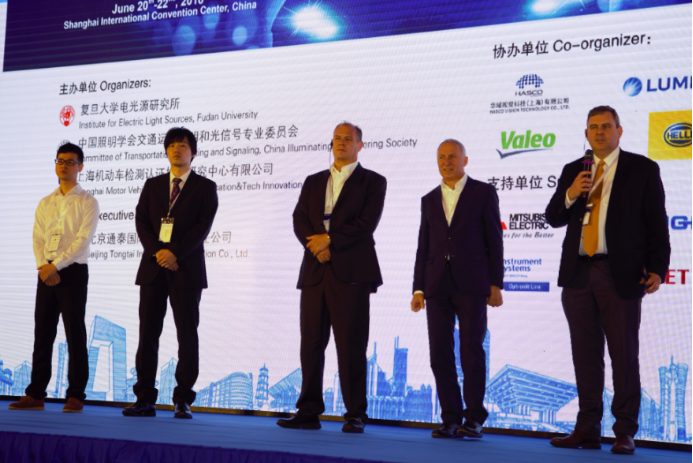 Overview for outstanding speakers
Participants gain lot of knowledge form the well prepared presentations of these global experts. At the end of each session, there was a Q&A segment for participants to ask for more information. The one to one form helped the discussions to go deeper. After today's sessions, IFAL offered a panel discussion about vehicle lighting and signalling in the world of automated vehicles, which involved more people and made the forum more exciting.



Outside of the conference hall, exhibition booths were sett. Companies such as Valeo, HELLA, HASCO Vison, OSRAM, Lumileds, Mind Lamp, Everlight, WLCP, Mitsubishi, Instrument Systems, Everfine, Cybernet Systems, Fullight, etc., showed us their new designed lamp, latest technique, testing and measurement equipment.

Exhibitions
Welcome dinner was held after the fisrt day of IFAL. New events were added for dinner enhancement, including welcome speech form the host institutions, toast from IOC members, awarding ceremony for sponsors and music performances. During welcome dinner, Mrs. Fei Gao and Mr. Ziwei Shen made speeches and expressed their great support for IFAL.

Toast from IOC members

Mrs. Fei Gao


Mr. Ziwei Shen




Features for the first day of IFAL
Report on the second day of IFAL 2018
At 9:00 a.m, June 22nd, the second day of IFAL 2018 began.



Forum
After three presentation sessions that took place on June 21st, the second day started with the topic of the fourth session 'Performance Improvement of Vehicle Lamps'. There were 9 presentations on this topic. Through the introduction of vehicle lamps, this topic discussed the performance improvements of different aspects such as condensation, reductions of size and weight of the heat sink, lighting modules, high beam, the paradigm shift in automotive lighting, turn indicator functionality, stylish signalling lamp design and Bi-matrix ADB system.


Speakers
The topic of the fifth session was 'Evaluation, Measurement and Regulation for New Technology'. There were 12 presentations in this topic. For new technology, there were reports on headlamp based on pedestrian protection, new lighting way under adverse weather, enhanced condensation performance, key manufacturing technologies for light source module. For evaluation technology, there were presentations on overall technical scheme of simulation design, on-line test technology for LED automotive headlamp, evaluation of perception glare, performance glare provisions in relation to cut-off line, survey on new exterior illumination lighting. For Regulations, there were presentations on validity of the photometric requirements for road illumination devices and systems in the GB standards under revision.


Speakers
At the end of each session, there was also a short Q&A period. Audience and speakers shared the comments and ideas through questions and answers.

Q&A Session
At the end of IFAL, Marcin Gorzkowski, chairman of International Executive Committee of IFAL, presented the hot research topics in the field of automotive lighting to inspire contributions for the next IFAL in 2019. These new concepts of all the hot research topics provide a brand new direction for all the sectors.

Hot Topics published by Marcin
The organizing committee of IFAL also awarded certificates and prizes to the winners of the best paper award. They were:
1.Zhuangzhu Guo,Hongli Pang,Qingjie Guo,Zhi Yang,Xiaobo Xu.ADB Development Trends and Performance Improvements;
2.Xingjia Fan,Henning Kiel,Zhijun Zheng,Wenjie Hu,Ruiyao Ni,Wei Jiang,Lijun Jin.A survey on New Exterior Illumination Lighting and Its Requirement in The Field;
3.Masashige Suwa.Development of the RIR Optical System for Ultra-thin Headlights;
4.Michel Hermitte,Yves Gromfeld,Maxime Laminette.THIN LENS LIGHTING MODULES;
5.Chenyang Shi.Autonomous Vehicle Road Detection.

Pic of Best Paper Award
On behalf of the organizers, Mr. Ziwei Shen gave the closing speech. He said that after two days of meeting, the Sixth International Automobile Lighting Forum has successfully completed the agenda of the conference. The Organizing Committee of IFAL has done a lot of detailed work for the successful outcome of this conference. He expressed his sincere respect and heartfelt thanks to the Organizing Committee for its hard work. More than 500 delegates from around the world attended the forum and exhibition. The forum received 39 papers for the conference, and 37 speakers brought forty wonderful presentations to the delegates.

IFAL 2018 Closing Speech
Mr. Ziwei Shen, together with Prof. Yandan Lin, Marcin A. Gorzkowski, Bart P. Terburg, Wolfgang Huhn, Rainer Neumann and Ralf Schäfer invited all the members of organizing committee to go up stage and showed great gratitude to the participants. This marked the successful conclusion of The Sixth International Automotive Lighting Forum.

Prof. Yandan Lin and all the committee members

Welcome to IFAL 2019!